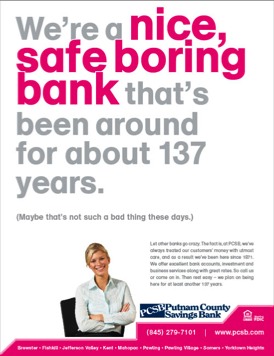 Sample ad from a campaign created during the height of the 2008 financial crisis. Elser& Aucone, NY.
Philosophy:
I've had a rather unique creative life, with global experience in many facets of
communications. Quite honestly, this is largely a function of being highly reluctant
to accept other people's limitations of my own abilities.

Another discovery is that you can reinvent yourself — indeed, you will probably have
to do so, because business will inevitably reinvent itself.

Our field is about communicating. If you can do this in a novel way, you'll survive
much better.
My career advice for people starting out:

You will encounter walls. Most of them are
made of remarkably thin paper.
I'm Manhattan-based, but love to work in other locations.
You can hire me by week or by project. I understand budgets
and my terms are clear. Reaching me couldn't be easier.
Call or text
1.917.747.7821

Email:
Peter@PeterWatsonWorld.com