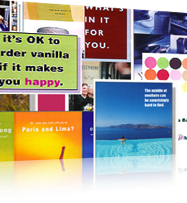 Start with an interesting headline. Stay with that thought.
If you're not standing out from the crowd, you're probably at a standstill. Communications must intrigue. I've helped Fortune 500 firms, major ad agencies and many smaller outfits to markedly improve their marketing. Clients like my witty headlines. But an equal share of my work involves helping them to describe complex services in a simpler, more evocative way.
Websites? Branding? SEO and long copy? Yes, all the above. Let's make it happen.

I do this for a living, for all kinds of clients. And I'm ready to do it for you.


People who use me get better copy.
Fast. With built-in SEO.